(March 6, 2021) 6:10 AM Who's work is it? It is yours or is it God's? Already in our study of Philippians we're  having to ask this question. Paul has just thanked God for the Philippians' participation in the gospel from the first day until now (1:5). That's something they had done. But in the very next verse he attributes that work to God: "I am sure that God, who began this good work among you, will carry it on until it is finished." In 2:12, Paul commands the church to work out their salvation with fear and trembling. But notice: they are to work out what God works in: "For God is the one at work among you both to give you the desire and the ability to do what pleases him."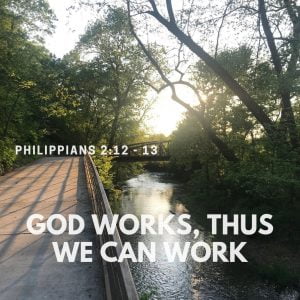 So, there's our part and there's God's part. This is a constant theme in Paul's writings. In Eph. 4:1 he turns from exposition to exhortation, from the indicative to the imperative, from what God has done in the past to what the Ephesians must do in the here-and-now, from doctrine to duty, from brilliant theology to mundane everyday living.
All this is simply to illustrate the great truth of the New Covenant: for the Christian, obedience is both required and enabled. "What the Law could not do, because it was weakened through the flesh, God did. He condemned sin in the flesh by sending his Son, who came in the likeness of flesh, to do away with sin. He did this so that the righteous requirements of the Law might be fulfilled in us, those who live not according to the flesh but according to the Spirit" (Rom. 8:3).
In the end, it's always a matter of God working out what he has already put in. He helped Paul. He helped the Philippians. And he will help you as well, my friend.