Sunday, January 3, 2020
8:38 AM Hey folks! Are you a teacher? I am. And it's "Back to School Day" tomorrow. What should be our basic attitude as teachers toward our students? A famous quote from Martin Luther comes to mind. He said:
Ein Christenmensch ist ein freier Herr über alle Dinge und niemand untertan. Ein Christenmensch ist ein dienstbarer Knecht aller Dinge und jedermann untertan.
This is from his great booklet Von der Freiheit eines Christenmenschen.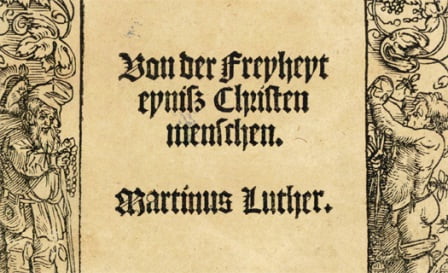 I supposed we could render the German as:
A Christian is the most free lord of all and subject to no one; a Christian is a dutiful servant of all and subject to everyone.
Christian freedom is no more freedom to do what I please in reference to my old sinful nature as it is to do what I please in reference to my neighbor. Freedom does not allow us to ignore or neglect the needs of our fellow human beings. We are commanded to both love them and serve them. I have often told my students, "You're not here to serve me; I'm here to serve you. You don't exist to make my life easier; I exist to make your life easier." What I'm trying to get across is that, even though they are my students, I see them first and foremost as persons for whose good I must be willing to sacrifice my time, energy, and convenience. I had teachers in college and seminary who loved their students that way. After I had completed my second year of Greek during summer school at Biola, my elderly Greek teacher, who used a cane, knowing that I was leaving for Hawaii the next day, hobbled all the way across campus to my dorm room and up a flight of stairs just to hand me my graded final exam and to congratulate me on a job well done. That memory is seared into my brain. The popular image today of a teacher as a cold and cruel taskmaster is completely foreign to the teaching of the New Testament. We are through love to become each others' slaves (Gal. 5:13).
Fellow teachers and fellow students, if we love one another we will serve one another. The marks of love — please note, Dave! — include patience, kindness, gentleness, goodness, and faithfulness. To truly love our students is not to exploit them for ourselves but to serve them sacrificially for their good. Of course, some will try and take advantage of you, but I'm not talking about them.
So there you have it. My secret sauce for successful schooling. 
(From Dave Black Online. Used by permission. David Alan Black is author of Energion titles The Jesus Paradigm and Why Four Gospels, among many others.)