(September 8, 2018) 6:25 AM Greek students, for what it's worth, here's my approach to doing Greek sentence diagramming within a paragraph. Note: It has nothing to do with English sentence diagramming!
Instead, my goal is to identify all main clauses and then identify any clauses that are syntactically subordinated to those main clauses. Here's a simple example from 1 Thess. 1:2-5: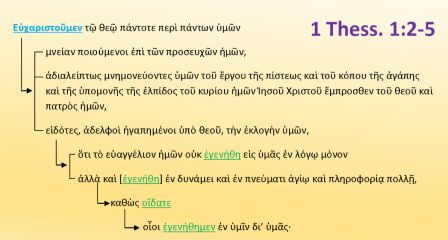 As you can see, there's only one main finite verb in the entire paragraph: "We give thanks." This verb is marked in blue. There are other finite verbs in the paragraph (marked in green), but they are not main verbs. The main verb "We give thanks" is then expanded in a series of participial clauses, three in fact: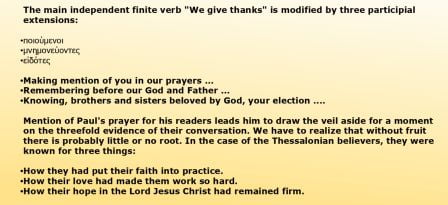 See how this works? Easy cheesy! At this point, your teaching outline practically jumps off the page:
1) The When of Paul's Thanksgiving.
2) The What of Paul's Thanksgiving.
3) The Why of Paul's Thanksgiving.
In other words …
1) Paul gives thanks when he prays personally for the Thessalonians.
2) Paul gives thanks for the Thessalonians' practical faith, sacrificial love, and unwavering hope.
3) Paul gives thanks because he knows that God has chosen them.
The next step is to produce a translation of the paragraph based on your own exegesis of the text.

The final step is to draw as many practical applications from the paragraph as you can. Here's a sampling (for more you can go here):
Paul had no orphans. When he left the church in Thessalonica, he did not forget about them.
Paul wants his readers to know that he personally (note the middle voice of "mentioning") prays for them.
Thanksgiving is not thanksgiving unless it is expressed.
"Faith without works is dead."
True love always involve sacrifice.
We can endure suffering and persecution because we have placed our hope in Jesus and in His coming back to earth.
The church is a family (Paul calls these believers his "brothers and sisters").
Teaching and preaching is more than "words." It involves Holy Spirit power and full confidence in the efficacy of the Gospel.
"Examine my life," says Paul. The selfless life he led backed up the Gospel he proclaimed.
Now that is true greatness.
Good day! (Said in my best Paul Harvey voice.)
(From Dave Black Online. Used by permission.)